Student Spotlight: Lucia Fernandez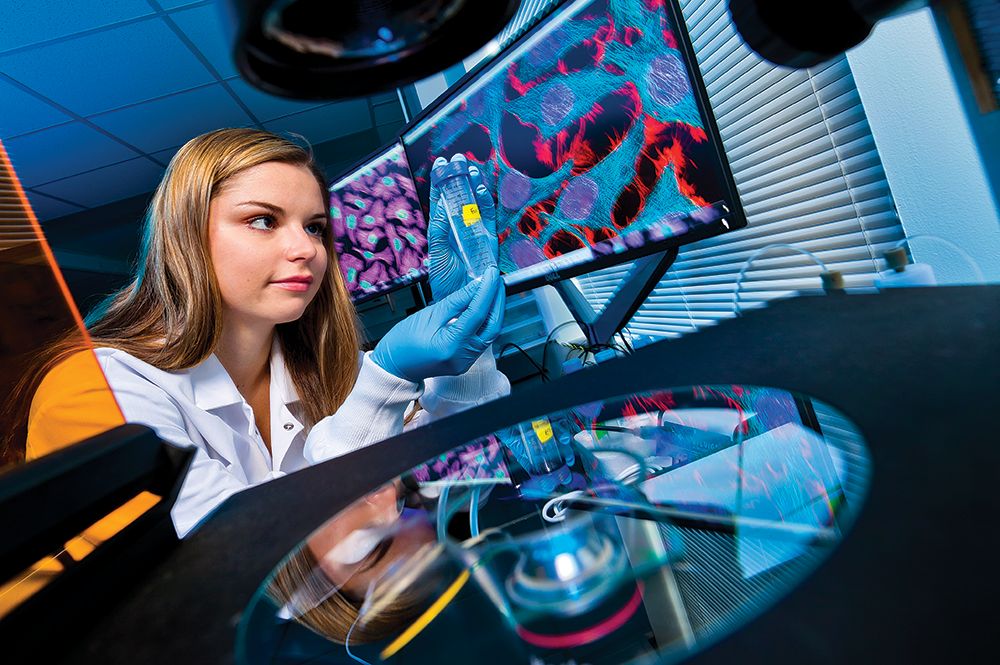 UMD DEGREE: B.S. '18, Bioengineering
OCCUPATION: Student and aspiring pharmaceutical bioengineer
As a child, Lucia Fernandez thought she wanted to be a physician. But then her father was diagnosed with an exceptionally rare form of cancer.
She was in high school when her dad, in his mid-40s, started feeling lethargic despite being fit. Suddenly, breathing difficulties landed him in the ER. An oncologist knew to test for the very rare Grey Zone Lymphoma, which strikes about 200 Americans per year. Her father's diagnosis of this aggressive cancer kick-started Fernandez's interest in how bioengineering can improve medicine and the treatment of diseases.
Fernandez credits her father's strength and capacity to endure heavy doses of chemotherapy with his recovery. Still, she notes that chemo targets rapidly proliferating cells, but not the underlying gene mutation that causes the proliferation of cancer cells. That recognition also motivates her toward her chosen field.
"I have so much respect for doctors," she said, but in her academic pursuits, she seeks a way to serve many rather than individual patients. "Being a bioengineer, you can create something that could have an effect around the world."
Her goal of becoming a bioengineer is achievable thanks to the financial support she has attained at the University of Maryland, including the William Barotti, Presidential, and Clark Scholarships.
Fernandez grew up in New Jersey, the eldest child of immigrant parents. The scholarships mean her parents will not have to postpone retirement, she says, adding that "I hope to just pay it back."
While extremely grateful for such generosity, her UMD experience is broader than the scholarships she's received. For example, as part of her Spanish minor, she has provided translation services at area high schools. She hopes this outreach can spark excitement for STEM learning among other young first-generation American students.
"I had never met one engineer before coming to UMD," Fernandez said. "My minor has allowed me to get more involved in the community [and to share] my passion for engineering and science."
After an internship this summer at Merck Pharmaceuticals, Fernandez is aiming to secure a full-time job in pharmaceuticals and pursue a master's of engineering. She says she would prefer to work and study at the same time because "you're gaining practical experience both ways."
Fernandez recognizes her education can shape the lives of others through engineering and outreach. "It's really opened my eyes to what is going on around me."
Published July 18, 2017